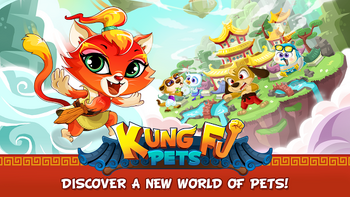 Kung Fu Pets is a mobile application developed by Com2uS for the iOS and Android devices. It may be downloaded for free from the Apple App Store and played on the iPod Touch, iPhone, and iPad or the Google Play Store and various other Android devices.
Kung Fu Pets Wiki is a player gathered information site with no affiliation to Com2uS.
Navigation

How do the Summoning rules work? - In Kung Fu Pets, the Summoning rules may be unique compared to other breeding games! So you should make sure to check them out first!

Friends - Use this page to find your friends! Any requests posted not on here will be deleted!

List of Kung Fu Balls - This page is to identify what you summoned.

Habitats - Don't know where your pet should go? See here!

Buildings - Find a list of the buildings here.

Goals - Find a list of in-game goals here.

Level Rewards - View rewards that you can unlock each time you gain a level.

Kung Fu Pets Image Guideline - Please follow our image guidelines before adding images on our wiki!


*** For more link options, use the navigation toolbars at the top of the page! ***
Administration
The current administrator of the Kung Fu Pets Wiki is as follows:
If you need any support or guidance in regard of the Kung Fu Pets Wiki, please visit an administrator's profile page.
Affiliated Wiki

News
November 19th, 2017
Another minor bug fixes have published!
October 25th, 2017
The minor bug fixes have published!
March 30th, 2017
There was minor bug fixes after over 1 year!
February 11th, 2016
After the version 1.3 has been released...
Kung Fu Pets' Max. Level increased. (Lv. 20 -> Lv. 30)
Kung Fu Pets' Training Max. Level increased. (Lv. 15 -> Lv. 30)
New Kung Fu Arena stage added.
New Hall of Heroes list updated.
3 new Local Packs added.
Other bug fixes.
As well as..
has arrived to Xiaolin! ...Wait, he is here right now..?!
(See more)
Featured Article
"
The richest man in all of Xiaolin. He was able to become this rich thanks to a little bit of luck, humor and a well-fitting suit. He tells everyone he meets that money CAN buy happiness.
"
 
— (see more) 
Community content is available under
CC-BY-SA
unless otherwise noted.